Archive for April 30, 2010
The GRID-IT!™ series of products provides endless configurations for storing your digital devices and personal effects. The Cocoon Innovations CPG4 GRID-IT! Organizer, 7″ x 5″ is conveniently sized for your current purse, laptop bag or travel case, you will save time on the go by easily finding what you need.
Constructed of a rubberized woven elastic object retention system for gadget organization
Ideal for pens, notepads, cellphones, chargers, wallets and more
Versatile organization
Endless configurations
Designed to hold items firmly in place
Back of GRID-IT! doubles as a mouse pad
Price: $9.99
Also available in 12″ by 8″, Gray, and 10″ by 5″.
Check out our other sizes and shapes and colors:
Cocoon Innovations CPG25BK GRID-IT! Organizer 3-Ring Binder Accessory, Black
Cocoon Innovations CPG20BK GRID-IT! Organizer, 15″ x 9″, Black
Cocoon Innovations CPG25RD GRID-IT! Organizer 3-Ring Binder Accessory, Red
Cocoon Innovations CPG5RD GRID-IT! Organizer, 10″ x 5″, Red
The SVAT Electronics CV301-8CH-008 8 Channel H.264 Smart DVR Security System is designed for the do-it-yourselfer and is loaded with features that will help keep your property safe and secure. Includes eight (8) weather resistant cameras with night vision and 420 TV lines resolution. An interactive coaching menu walks your through installation, so setup is a breeze!
Record over one month (1000 hours) of continuous video footage
iMenu will guide you through the entire setup process
View video online with no service fees from any computer with internet access
iPhone, Blackberry, Windows Mobile and Symbian smartphone compatible
8 professional grade weatherproof cameras with 420 TV lines of resolution
Stay notified with e-mail alerts when motion is detected
Night vision cameras to see any monitored area, even in total darkness
Price: $699.98
Satellites to issue speeding tickets from space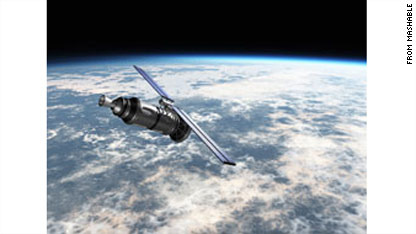 UK drivers had better stay under that speed limit, because the traffic authorities are watching… from outer space. According to The Telegraph, an American company called PIPS Technology has developed a system that uses two cameras on the ground and one mounted on a satellite in orbit to catch speeders.
The system – called "SpeedSpike" – figures your average speed between two points, captures an image of your license plate and reports you if you're going faster than the law allows. Oh, and if you're hoping Great Britain's notoriously gray weather will save you, you're out of luck; the system works even when it's cloudy or dark.
SpeedSpike will be tested in two places: the London borough of Southwark, and along the A374 between Torpoint and Anthony in Cornwall. If the trial is successful, the tech may be used to enforce speed limits near schools, to reduce the need for speed bumps, and for "main road enforcement for traffic reduction."