Archive for April 29, 2010
The 1171BK Cat 5 Single-Source Multidriver will distribute HDTV signals to multiple rooms over Cat 5 cable. Each system will serve six remote locations, with resolutions up to 1080p. Features one input and six Cat 5 outputs. This system is rack-mountable and includes rack ears.
A Distribution Wall Plate (sold separately) is required for each zone.
One input, six Cat 5 wallplate/receiver outputs (receivers sold separately)
Up to 1080p component video (YPbPr)
Distributes HDTV signals up to 1,000 feet from the source
Coaxial digital and stereo analog audio
Infrared remote jack for IR pathway
Price: $602.99
The Mobile Phone that Breathes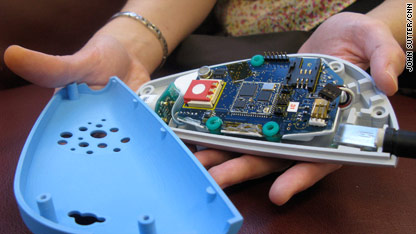 Researchers at Intel Labs in Berkeley, California, have designed a prototype mobile phone that slurps up air and spits out pollution measurements.
The researchers eventually hope to make everyone who carries a phone into a mobile air quality monitor, to supplement the 4,000 stationary monitors used by the U.S. Environmental Protection Agency and state partners.
It's the idea of "citizen science" taken to a new extreme.
The pollution readings would be useful for several reasons, said Allison Woodruff, a research scientist at Intel.
First, they would give regulators a sense of air quality trouble spots that might be missed by government monitors, which tend to have significant distances between them that millions of walking monitors could fill.
The moving air sensors also would enable a new level of social science, she said. If you wanted to learn more about asthma, for instance, you could look at the air quality experienced by asthma sufferers and see if that had any impact.
Currently, such evaluations aren't really possible, she said.
The measurements would be tied to a person's GPS location to create a real-time map of air quality readings. That info could be available to everyone on an app or a website, the researchers said.
The prototype air-quality phone developed by Woodruff and Alan Mainwaring is a bit clunky for now. It has big holes in its case, to let air in. The sensors that pick up carbon monoxide, ozone and nitrogen oxide aren't small enough to let the phone fit in most pockets. That might be just as well, since the researchers aren't sure what would happen to the pollution measurements if a phone went inside a purse or pocket.
Woodruff said it might be equipped with light sensors that would tell it to stop taking and uploading measurements if it was inside a pocket.
But, they said, air quality sensors are getting better and smaller. They are confident the kinks will get worked out, and that this idea will make the air healthier. They hope their pollution-tracking phone will become reality in a matter of years.
This amazing package includes everything you need to create a home security system that will seamlessly integrate with an INSTEON automation system.
The ELK M1 Gold system features a rock-solid security foundation with powerful automation functionality. Choose from a wide variety of Elk security system accessories to create 16 zones (expandable to 208). This Elk panel even has the capacity to handle up to 144 wireless zones, just add an M1 Cable to NX Wireless harness, ELK Wireless Receiver / Input Expander.
The Elk panel works with the included ISY-99i controller, which is one of the most advanced NSTEONcontrollers on the market, supporting up to 256 devices and scenes and a maximum of 300 programs. You can set up timer events and custom event triggers, as well as monitor and control all the INSTEON-compatible devices in your home from any web-browser anywhere in the world. Also includes is an INSTEON Dual-Band PLM Serial Interface which features built-in dual-band technology that sends and receives INSTEON signals via powerline and radio frequency (RF), so it doubles as an Access Point. This makes it ideal for new INSTEON installs if you have or plan to use an RF-only INSTEON-compatible devices like a remote, thermostat, motion sensor or contact sensor.
Security panel is expandable up to 208 on-board zones and 144 wireless zones
500+ word/phrase vocabulary for voice announcements of alarms or zone status
Built-in telephone remote control makes any phone a keypad
Backlit, large-character flush-mount LCD keypad
Configure and Program INSTEON Devices
Price: $1,199.99